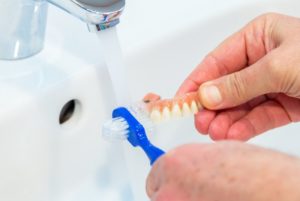 One of the best things about dentures is that they are invulnerable to decay and cavities. However, their cavity-proof nature does not mean that they are a zero-maintenance investment. Properly caring for dentures will help them to stand the test of time. It will also help you to enjoy the greatest possible benefits from them. But exactly how should you care for your dentures? Here are four simple things you can do to keep your new smile clean and functional.
Clean Them Daily
Cleaning your dentures every day will prevent them from becoming discolored or developing an unpleasant odor. To clean your dentures, you should:
Brush them thoroughly. Clean all of their surfaces with a soft-bristled toothbrush. Some brushes are designed specifically for this purpose.
Skip the toothpaste. Many toothpastes are abrasive and might scratch your prosthetic teeth.
Regularly soak them. Soaking your dentures in a special cleaning solution isn't a substitute for brushing, but it can help to keep them fresh and odor-free.
Be Careful With Them
Dentures are durable, but they are still vulnerable to breakage if you drop them. When you take them out of your mouth, therefore, you should do so above a soft surface, like a folded towel or a sink full of water.
Additionally, you should take care to avoid extremely hard foods that might break your dentures. For example, you should never bite down on jawbreaker candies or ice. If you want to eat a somewhat hard food, like raw veggies, that's perfectly fine. However, you should not bite down on them with your dentures' front teeth. Instead, cut the food into pieces and distribute it evenly across both sides of your mouth when you are chewing.
Store Them Properly
When you are not wearing your dentures, it is important that you store them in cool water or a denture soaking solution. Simply leaving them on your nightstand or the bathroom counter may allow them to dry out and lose their shape.
Visit Your Dentist Regularly
Even if you no longer have any of your natural teeth, regular dental visits remain important. At your appointments, your dentist will both examine your mouth and take a look at your dentures. If necessary, they will reline (adjust) your dentures to ensure that they continue to fit properly and function well. Every 5 – 10 years or so, it may be necessary for you to replace your dentures altogether.
Dentures can be an invaluable asset, but they will only take care of you if you take care of them. Use the above tips to maintain your prosthetic teeth and keep them as functional and clean as possible.
About the Author
Dr. Charlie Parker of Marshall Denture Clinic graduated with his dental degree from the University of Texas Health Science Center in San Antonio nearly 40 years ago. Since then, he has maintained a reputation for providing top-quality prosthetics in a comfortable environment. If you have questions about dentures or any other form of tooth replacement, he would be happy to assist you. Contact our team at 903-935-6351.