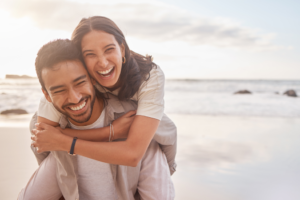 Summer is finally in full swing, and you and your loved ones might have a lot of fun events and trips planned! You might even be gearing up to head down to your favorite beach for some much-needed R&R and fun in the sun, which means there will be plenty of opportunities for pictures and making wholesome memories! With that in mind, you should want your teeth to look their best whenever someone pulls out a camera or hits the record button on their smartphone—and cosmetic dentistry is the secret to this. Here's more from your trusted cosmetic dentist about veneers, one of the most comprehensive cosmetic services around that is certain to help you achieve a beautiful, summer-ready smile!
What Are Veneers?
Porcelain veneers have reshaped how cosmetic dentists can enhance the appearance of patients' smiles! These innovative, tiny shells are made from durable dental porcelain, which isn't just safe for use in dentistry, but also capable of being color-matched with teeth for beautiful and natural-looking results. They can also last for several years under ideal circumstances, making them an enticing solution for many patients. It's worth noting that a small amount of enamel must be removed from teeth being treated with veneers, but this is hardly a concern and only ensures optimal results.
How Can Veneers Upgrade My Smile?
The bottom line is that if you're hoping to radically improve the appearance of your smile, veneers are likely going to be your best bet. Here are just four of the ways in which they can noticeably upgrade your pearly whites so that you look your best for all of your summer fun:
They can close gaps between teeth – Veneers can sometimes be used to close gaps between teeth without the need for orthodontics, though severe cases will often require more complex treatment. This notably reduces the amount of tartar and plaque buildup that occurs between teeth, thus benefiting your oral health and your smile's beauty!
They can resolve staining and discoloration – Teeth whitening is often thought of as the go-to solution for staining and discoloration, but veneers can also be used to cover up any stubborn staining or dark spots.
They can give teeth a straighter appearance – Though veneers cannot straighten your teeth like metal braces or clear aligners, they can give your teeth a straighter appearance and make them seem more uniform and symmetrical.
They can restore damaged teeth – If you have teeth that are chipped, cracked, or otherwise physically damaged, veneers can immediately mask those imperfections and restore your teeth to their natural, beautiful state. However, if the damage is severe, an option more restorative in nature might be needed, such as a dental crown.
About the Author
A proud native Texan, Dr. Charlie A. Parker received his DDS from the University of Texas Health Science Center in San Antonio and has proudly served patients and families in the Marshall community for several years. His practice is thrilled to offer a wide range of services including various cosmetic treatments such as veneers to assist those with undesirable aesthetic issues. If you have any questions about veneers or you'd like to schedule a visit, feel free to contact Dr. Parker through his practice's website or over the phone for further assistance. Telephone: (903) 935-6351.