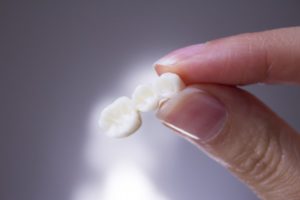 If you have had one or more missing teeth, you are not alone. It is estimated that roughly 120 million Americans are missing at least one tooth. Fortunately, a dental bridge is a reliable, long-lasting, and lifelike way to return to a complete smile. This restoration can replace one missing tooth or several in a row by using the surrounding teeth for support. But what if it falls out? Read on to learn more about what may have caused your dental bridge to fall out and your next steps in order to fix it.
What Caused My Dental Bridge to Fall Out?
There are several different reasons why a dental bridge may fall out. Here are a few common occurrences that can affect the stability of your restoration:
Tooth decay: If there is tooth decay forming under or around the bridge, it can cause it to come out more easily. Bacteria, acid, and even pieces of food can begin to collect in exposed surfaces in between the bridge and gum lines. These microorganisms introduced can eventually cause the underlying tooth to decay.
Abutment teeth are short, weak, or damaged: The natural teeth that connect the bridge are the abutment teeth. It is essential for them to remain healthy and strong for the bridge to be held securely in place. If your abutment teeth are weak or too short, the bridge will not hold for long.
Irregular bite pattern: A strong bite pattern is one where your teeth naturally meet in an efficient alignment when chewing with no unnecessary stress on the teeth or jaw. Unfortunately, if a piece of the bridge is too high or too low during chewing, excessive pressure will be placed on certain parts of your teeth, causing the bridge to weaken and loosen.
What to Do If Your Dental Bridge Falls Out
Anytime something unexpected occurs with your teeth, the initial reaction is to panic. If your bridge falls out, take a deep breath – dental emergencies like this happen from time to time. Here are the next steps for you to take:
Place your dental bridge in a storage case or plastic bag to keep it safe and clean. This ensures you will remember where it is when you visit your dentist and it will be ready for repairs and re-insertion.
Call your dental office and explain your situation.
 Your dental team will schedule a time for you to come in for treatment and give you instructions on what to do in the meantime.
If your dental bridge falls out outside of regular office hours, be sure not to chew on that side of your mouth. In addition, avoid foods and beverages that are extremely hot or cold in order to avoid unpleasant tooth sensitivity. When it's time for your appointment, your dentist will be able to create a customized treatment plan to restore your full, strong, beautiful smile.
A dental bridge is a wonderful way to rebuild your smile. While it would be natural to panic a bit if it falls out, there's no need to worry for too long! With these tips and the help of your dentist, your restored pearly whites will be back in their rightful place as soon as possible.
About the Author
Dr. Charles Parker and his team at Marshall Denture Clinic keep the smiles of Marshall whole and healthy. He earned his Doctor of Dental Surgery from the University of Texas Health Science Center in San Antonio and maintains professional membership in the American Dental Association. With customized care, his goal is to provide exceptional dentistry to help restore your teeth and confidence. To schedule an appointment, contact him through his website or call (903) 935-6351.
---