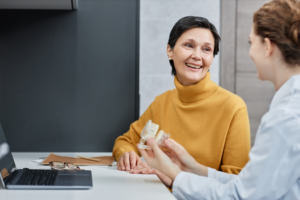 When it comes to replacing missing teeth, dentures are among the most accessible and cost-effective options around, and these days, countless patients rely on these restorations in order to live with unimpeded oral functionality and the boosted self-esteem that results from having a beautiful set of teeth. But sometimes, a patient must undergo tooth extraction before getting dentures to ensure that the restorations can be properly situated inside the mouth. If you fall into this category, you might be wondering what your expected timeline looks like for when you can receive your new teeth. Keep reading to learn more.
How Long Does My Mouth Need to Heal Following Tooth Extractions?
Healing is an individual biological process, and unless you have superpowers, it cannot be rushed or expedited—only accommodated. That said, everyone heals differently following tooth extractions, but on average, it takes the gum tissue around 6 to 8 weeks to fully close and toughen up enough to tolerate firmer foods.
But if you're having teeth extracted in preparation for dentures, you can expect the complete healing of the underlying bone and surrounding gum tissue to take much longer—roughly 6 to 8 months. It's also important to mention that following any type of tooth loss, whether by accident or by intent, the shape of your mouth will change as your gums heal and the remaining teeth shift. You might also lose some density in your jawbone in the areas where the teeth once were. As you heal, your dentist will monitor your situation and intervene if necessary.
When Can I Receive Dentures Following Tooth Extractions?
This is one of the most commonly asked questions by potential denture patients, and frankly, the answer always depends on the patient's priorities. However, there are two main approaches for getting dentures following tooth extraction.
One method involves having your teeth removed and allowing your gum tissue 6 to 8 weeks to heal before receiving temporary dentures. This is advantageous for patients who don't want to learn how to wear their dentures while their gums are sore and healing, and it also usually means the dentures fit better when they're first worn. Obviously, the main disadvantage is being without teeth for that period.
The other method involves making the dentures before the teeth have been removed, so that they can be inserted immediately following extraction. However, wearing dentures after extractions can be challenging, especially when learning how to bite, chew, and speak again. That said, it ultimately boils down to the patient's individual preferences.
About the Practice
Under the leadership of Dr. Charlie A. Parker, the talented team at Marshall Denture Clinic is thrilled to provide patients and families in Marshall, TX with an unmatched level of dental care! The practice offers a wide range of services including restorative treatments such as dentures for those suffering from extensive tooth loss. If you have any questions about the article or you'd like to arrange a consultation to see if you might benefit from dentures, feel free to contact the practice online or by phone for further information. Telephone: (903) 935-6351.