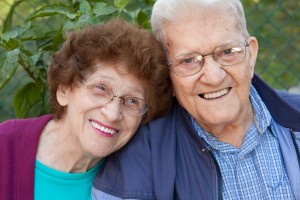 One of our biggest passions is helping patients with their dentures in East Texas. Unfortunately, a big barrier to dental and oral health in seniors is the fact that too often, these patients just don't visit the dentist due to financial or physical limitations. Fortunately for East Texas, Dr. Charlie Parker is happy to offer a free 10-point denture inspection for all our patients! That's right — you can have your denture inspected at absolutely no cost to you. Interested? We thought you might be… keep reading to learn more!
Let Us Check Your Denture
Your free inspection is a 15-minute appointment during which we'll check your denture to make sure it's safe to wear. Ill-fitting dentures can cause painful sores and problems with the jaw — and these issues only continue to worsen over time, leading to far more serious problems later on. In fact, oral cancer has been linked to the blisters that are rubbed by a denture that doesn't fit the way it should.
You can also ask anything you want to know about your denture during this free inspection. Are you interested in dental implants? Do you feel like you could be taking better care of your denture? Or is there anything else you want to know? Please, ask away. Dr. Parker is the denture expert in East Texas, and he's ready to take your questions.
Affordable Denture Care for All Patients
This free offer is just one indication of our effort to provide affordable denture care to patients of Marshall Denture Clinic. After your inspection, we can fully discuss any of our other denture services as desired. These include:
Repairing your existing denture or partial denture (including same-day services available)

Receiving a completely new full denture or partial as needed

Enjoying increased stability with a snap-on smile, a denture that securely attaches to dental implants or existing natural teeth

Investing in a new Smile in a Day, the best way to replace your failing natural teeth
About Dr. Charlie Parker and Marshall Denture Clinic
With decades of experience helping East Texans complete their smiles with full dentures and partial dentures, Dr. Charlie Parker is passionate about his work in tooth replacement. Combine that know-how with his friendly, approachable style, and it's no wonder why Dr. Parker has people traveling hundreds of miles to visit him for their denture care. Marshall Denture Clinic boasts a team of true experts in tooth replacement to help you receive the fantastic denture care you deserve.
Schedule Your Denture Inspection Today!
If you're wearing a denture but haven't visited the dentist in awhile, why don't you take advantage of this free offer to have your device inspected? We'll make sure it's safe for years of use. Contact us to schedule your consultation at absolutely no cost today!