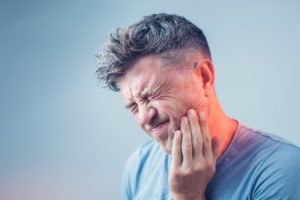 Due to the COVID-19 crisis, many dental offices are temporarily closed. Others have modified their hours and have implemented strict safety protocols to make sure that both patients and staff members have a low risk of contracting the coronavirus. These changes in the dental industry have left many people wondering what they should do if they experience a sudden oral health problem. In this blog post, we provide practical guidance on how to handle dental emergencies during COVID-19. Your dentist is ready to help you!
Evaluate the Situation
One of the first things you need to do during a dental emergency is assess the situation. If you are bleeding uncontrollably, have broken facial bones, or have other serious injuries, you should head to your local hospital emergency room. Then, you can contact your dentist later for follow-up care.
On the other hand, if your problem is purely dental in nature — for example, if it is a toothache or broken tooth — do not go to the ER. The medical staff in hospitals do not have the training or equipment to handle such issues. Instead, get in touch with your dentist and describe the situation. They will provide you will guidance on what to do next.
Arrange an Emergency Appointment
The vast majority of dentists are still providing emergency care during COVID-19. That applies even to most dentists whose offices are otherwise closed. It should be fairly easy for you to contact your dentist via phone or email. Inform them that you need prompt care, and they will arrange to see you as quickly as possible — probably even on the same day you contact them.
Perform Basic Care at Home
Before your emergency dental appointment, there may be some things you can do at home to lessen your pain and minimize the damage to your oral health:
If a tooth gets knocked out, gently rinse any debris off the tooth. Then, try to replace it in its socket (or store it in a glass of milk or water). If you receive care within an hour or so, it is possible that the tooth can be splinted back into place.
If you have a severe toothache, take over the counter pain relievers. A saltwater rinse may help to bring down swelling. Avoid chewing with the tooth to the extent possible.
If you lose a crown, you might be able to reattach the crown with a dab of toothpaste or denture adhesive. Whether or not that is possible, take the crown with you when you visit your dentist.
If you break a tooth, avoid using the tooth to chew. Covering its jagged edges with a piece of sugar-free gum can protect the soft tissues in your mouth.
Dental emergencies are serious! Use the above tips to handle such situations during the COVID-19 crisis in order to preserve your oral health and lessen your pain.
About the Author
Dr. Charles Parker is a general, restorative, and emergency dentist in Marshall. He has nearly 40 years of experience in his profession. His advanced training equips him to handle a broad range of oral health issues. He is often able to attend to emergency patients on the same day they call. If you would like to know more about Dr. Parker and/or our practice's emergency services, contact us at 903-935-6351.