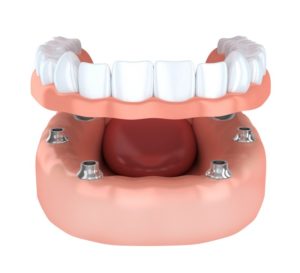 After dealing with broken dentures one too many times, you'll probably want to start exploring other options. You may have heard of implant-retained dentures in Marshall that'll offer better stability and chewing power than traditional dentures. But what is it actually like to get false teeth supported by implant posts? Here are 5 things you'll need to know about life with your new smile.
1. It'll Take Time to Adjust to Eating
After you get your implant dentures, you'll need to give the site of the surgery a chance to heal before you can freely enjoy all of your favorite foods. You'll need to stick to soft foods – such as scrambled eggs, applesauce or sliced bananas – for a while. After 6 weeks or so, you should be able to safely and comfortably eat most foods. (That said, you should still avoid crunching on ice and other especially hard foods, as this can damage your implants as well as the dentures themselves.)
2. You Don't Need to Worry About the Dentures Slipping
It can take some time to get used to speaking with dentures, and even when you do, there's a risk of them slipping or falling out at embarrassing times. However, when dentures are secured to implants that are firmly rooted in the jawbone, you'll no longer have to worry about this problem. You can talk, smile and laugh all you want without worry.
3. Taking Care of Implant-Retained Dentures is Easy
Since implant-retained dentures are permanently fixed in the mouth, you don't have to take them out to clean them; just brush and floss like you normally would! Of course, seeing your dentist twice a year is another important part of maintaining great oral hygiene.
4. You May Need Periodic Repairs and Adjustments
Implant-retained dentures can last for a very long time – 30 years or longer in many cases. However, this is only if they're well-cared for; in addition to brushing and flossing every day, you might also need to have minor repairs and adjustments done from time to time. Every patient's case will be different, but on average you'll need this type of maintenance done every 7 to 9 years.
5. You'll Need to Watch Out for Implant Failure
Over 95% of dental implants will remain in place for more than a decade; in other words, the procedure has a very high success rate. However, your implants can still fail, which is most likely to happen in the within the first year. Luckily, in most cases your dentist will be able to try and replant your implants after your mouth is given a chance to heal.
If you're thinking of upgrading your dentures in Marshall, talk with your dentist as soon as possible about the possibility of dental implants; if you're a candidate for the surgery, there's a good chance it could enhance your smile and change your life.
About the Author
Dr. Charles A. Parker has over 30 years of dental experience and always works to exceed the expectations of his patients. He has a lot of experience in using implant-retained dentures to completely reconstruct smiles. To schedule a consultation at his practice, Marshall Denture Clinic, visit his website or call (903) 935-6351.