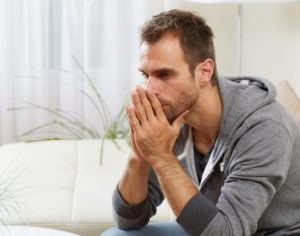 Do you wonder if the amount of alcohol you consume might be harming more than just your liver? What about the hours you spend by the pool soaking up the sun? Do you worry about the possibility of developing skin cancer? While these bad habits can certainly affect other areas of your body, they're also considered oral cancer risk factors in Marshall. Some of the same risky behavior we practice can be linked to more than one type of cancer or disease, which is why it's important to have oral cancer screenings performed by your dentist. Since April is Oral Cancer Awareness Month, we encourage you to read on to find out if you might be at risk for developing this disease.
Why is It Important to Be Screened?
Oral cancer is nothing to take lightly. In fact, more than 50,000 oral cancer diagnoses are expected, and of that number, more than 10,000 people will die from it. It can form in all areas of your mouth, including your tongue, lips, gums, tonsils, throat, and even the floor of your mouth. Oral cancer kills more individuals than those diagnosed with cervical, brain, kidney or liver cancer.
This is why your dentist believes in the importance of oral cancer screenings. Early detection is key when dealing with oral cancer. Many people who have died from this disease were not diagnosed in its early stages, which means the cancer had a chance to spread and worsen. Once this occurs, there is very little hope for successful treatment.
What are the Signs of Oral Cancer?
Many of the signs and symptoms are only noticeable to your dentist, as he has a trained eye to look for things you may be unaware of. However, should you notice any of these symptoms, call your dentist as soon as possible and schedule an appointment.
Red and white patches or sores in your mouth
Sore throat
Difficulty swallowing, chewing, speaking, or moving your jaw
Rough spots or a lump in the mouth
Pain or tender areas in the mouth or on the lips
What Are the Risk Factors with Oral Cancer?
In the past, the most likely individual to develop oral cancer in Marshall was a man over the age of 50. However, times have changed, and as people become riskier with their lifestyles, that demographic has shifted. New cases are developing in younger individuals, both male and female. Some of the risk factors associated with oral cancer include:
Smoking and using tobacco
Heavy alcohol consumption
Contracting the human papillomavirus (HPV)
Too much exposure to the sun
What Are Some Tips for Preventing Oral Cancer?
It would be great if we could tell you that if you do something or give up a particular habit, you'll without a doubt never develop oral cancer. Unfortunately, that's not the case. But there are certain things you can do to help reduce your chances of developing this disease.
Stop smoking and avoid all tobacco products
Limit or avoid alcohol
Cut back on the amount of time you spend in the sun
Visit your dentist for regular checkups
Maintain a balanced diet
Don't put your overall health by continuing to practice bad habits. Make some lifestyle changes that will work to your advantage and keep you healthy for years to come.
About the Author
Dr. Charlie Parker, DDS, received his undergraduate degree from Baylor University in Waco before completing his DDS degree from the University of Texas Health Science Center in San Antonio. Dr. Parker approaches each patient using integrity and a commitment to providing excellent dental care. Whether it is replacing a missing tooth with a dental implant or performing a general cleaning, he strives to exceed the expectations of his patients. To find out how we can help you, visit our website or call (903) 935-6351.