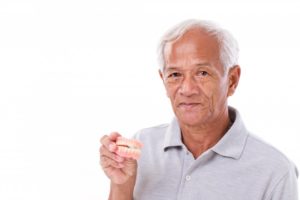 If you are new to dentures, you might still be getting the hang of speaking and eating with your new prosthetic. Understandably, you may be a little nervous that it will slip out of place and cause discomfort or embarrassment. Denture adhesive can help to mitigate those issues, but using denture adhesive in Marshall, Texas comes with its own learning curve. Here are some practical tips on how to properly use this tool.
Find Out if You Truly Need It
Well-made, properly fitted dentures do not always require adhesive. They are designed to remain secure in your mouth with only the help of natural suction. Try wearing your dentures without any adhesive at all for a day or two, and see how they feel. If they stay put, you can put your adhesive questions to rest.
But what if your dentures do start to slip out of place when you forgo adhesive? You should schedule an appointment with your dentist. If you have had your dentures for a while, it is possible that they no longer fit properly and need to be relined (adjusted). During your appointment, you can also ask your dentist about alternative ways of keeping your prosthetic teeth where they belong. For example, you might be a candidate for dental implants.
Applying and Using Adhesive
If your dentist recommends that you use adhesive to give extra security to your dentures, be sure to follow the instructions on the adhesive's packaging. Adhesive is available in different forms, including powders, pastes, and strips. Pastes are the most popular option. Here is a general overview of how you should apply this type of adhesive:
Make sure your dentures are clean and dry.
Apply a small amount of adhesive. If the adhesive squeezes out when you put your dentures on, that's a sign you've used too much.
Press your dentures firmly into place.
If your dentures fit well, you should not have to apply adhesive more than once per day. If you need to add additional adhesive to your prosthetic multiple times each day, it might be because your dentures no longer fit properly.
Removing the Adhesive
Before you take your denture out, rinse your mouth with warm water or a mouthwash. Then, gently remove your prosthetic. You may need to use a slight rocking motion to loosen the adhesive. Once your dentures are out of your mouth, use a cleansing solution to remove any leftover traces of adhesive on them. You should also use a toothbrush to remove any adhesive residue from your mouth.
Dentures adhesive can be a valuable tool for keeping your new smile in place. The above tips can help you to use it properly.
About the Author
Dr. Charlie Parker of the Marshall Denture Clinic earned his dental degree from the University of Texas Health Science Center in San Antonio nearly 40 years ago. Since then, he has earned a reputation for providing excellent, personalized care to his patients. If you have questions about dentures, denture adhesive, or anything else that relates to your oral health, he would be happy to assist you. Contact our team at 903-935-6351.