Partial Dentures—Marshall, TX
Custom-Made to Complete Your Smile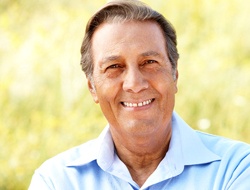 While a single missing tooth may just be annoying, multiple missing teeth throughout the mouth can drastically affect a person's daily life. Simple things like speaking, eating, and even smiling can become awkward, painful, and consistently make a person feel self-conscious. For more than 30 years, Dr. Charles Parker has been helping his patients rebuild their smiles and their confidence using custom-made dentures that look great, fit comfortably, and can be trusted to last. With partial dentures, he can seamlessly fill in the gaps in someone's smile so the last thing anyone ever has to worry about is there teeth.
What Are Partial Dentures?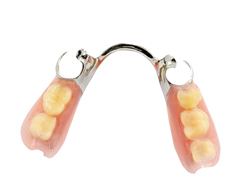 A partial denture is a type of dental prosthetic designed to replace multiple missing teeth while fitting in between a patient's remaining healthy teeth. They come in a nearly endless variety of shapes and sizes depending on the specifics of someone's tooth loss, and they are typically made using a combination of high-quality acrylic and metal. Partial dentures not only replace the teeth themselves, but the nearby gum tissue as well, creating a more natural appearance that allows a patient to smile with ease.
How Do Partial Dentures Work?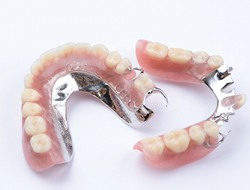 Typically, partial dentures are held in place within the mouth using small metal clasps that loop around neighboring teeth. Thanks to the support provided by the teeth, gum tissue, and jawbone, a patient should be able to speak and eat without their prosthetic shifting unexpectedly. Dr. Parker can also attach a partial denture directly to the jawbone using artificial tooth roots, or dental implants, to provide an even stronger and longer-lasting hold.
The Benefits of Partial Dentures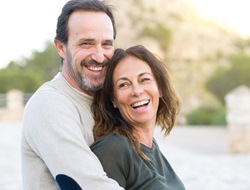 Renewed Confidence: It can be difficult to smile if you think other people will only notice what's missing, but with a partial denture, you'll be eager to show off your grin at the next opportunity.
More Comfortable Chewing: Every tooth in your mouth serves a specific function when chewing, and without them all, eating certain foods (particularly hearty ones like cooked meats and fibrous vegetables) can be nearly impossible. A partial denture allows a patient to eat whatever they like because it enables their teeth to work like they should.
Clearer Speech: Missing teeth can cause someone to slur certain words or even develop a lisp, but a partial denture can easily make these impediments go away.
The Cost of Partial Dentures
Every partial denture provided by Dr. Parker is completely custom-made to deliver the highest quality results both aesthetically and functionally. Because of this, the price is always different from patient to patient. Certain factors like how many teeth a person is missing, where they are located, and whether or not a patient wants dental implants can all affect the cost. Dr. Parker will be able to give you more definitive pricing information after performing an exam, and our team can work with your dental insurance and offer financing options to ensure your denture fits comfortably into your budget.
To learn more about partial dentures and all the other ways the Marshall Denture Clinic can help you recover your beautiful smile, contact us today to schedule a FREE consultation.